Hi,
I went to the infamous DUTTY FRIDAZE held at Fletcher's Land -Kingston, Jamaica... the large crowd filled the streets. The dancers took over the place ....

One unusal interesting object I saw was a life size poster of a dancehall artiste KC Jockey.... When is he coming to Jamaica?.... The Jamaican people need fi see him now man cho!!!!!!!!!!!

Selectors CD Master and Gary Chucks kept the people dancing until 8 am ... this event was hot...

The Promoter 2Gran had everything under control....... Big up the dancers dem - Kadalac Krew, Sample Six, Fras Krew, Black Bling, Timeless, Tek Set Girls, Iyla, Dyma, Dahlia, Latesha and Mumzel and the Swizzle Body Girls.. Anybody mi left out mi still love you



You needed to be there... DUTTY FRIDAZE SELLLL OFFFF!!!!!!!!!!!


Check out these pics........
Dancer Latesha dancing to win $2,000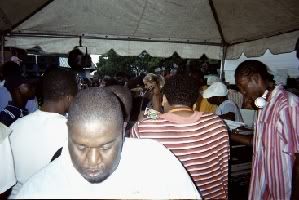 CD Master preparing to play at crouches morning while Gary Chucks mad up the morning..
Dancer Latesha a she tek Dutty Fridaze... she her standing beside the KC Jockey pic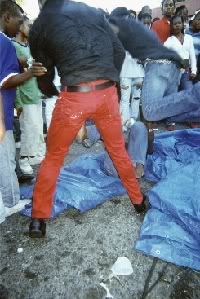 Dancers from Fras Krew jumping on top of a girl on the infamous DUTTY Fridaze trapaulin bed.

Blessed Love
Mystri